<![if !vml]>

<![endif]>
Issue 13 | 21 December 2022
<![if !vml]>

<![endif]>
Study Overview
The TRACK trial will evaluate whether a small dose of rivaroxaban, a blood-thinning medication, would reduce cardiovascular death or major cardiovascular events in patients with advanced stages of chronic kidney disease.
<![if !vml]>

<![endif]>
<![if !vml]>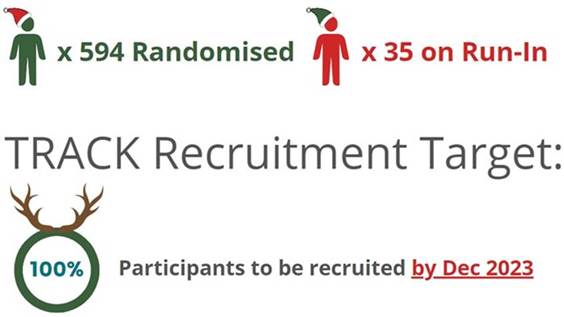 <![endif]>
Global Participant Recruitment Charts
We greatly encourage all sites to increase recruitment in the new year.
Below figures are as of 19 Dec 2022.
<![if !vml]>
<![endif]>
<![if !vml]>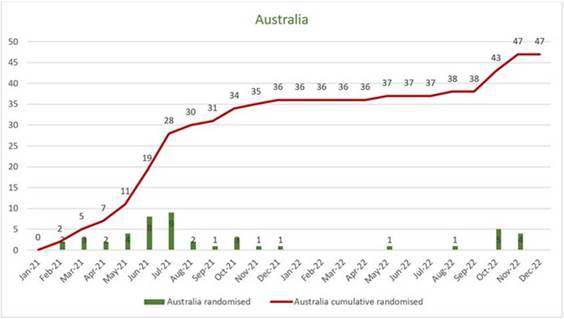 <![endif]>
<![if !vml]>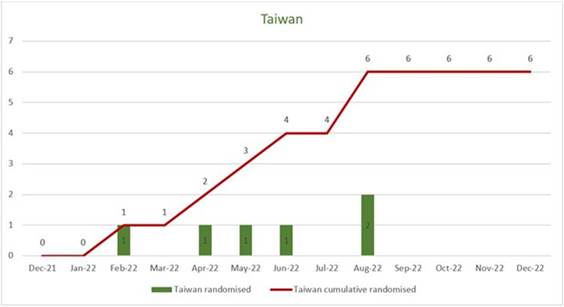 <![endif]>
<![if !vml]>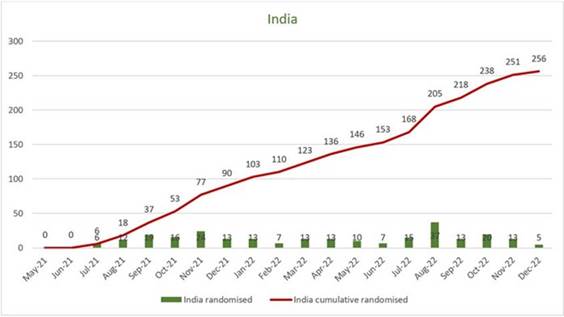 <![endif]>
<![if !vml]>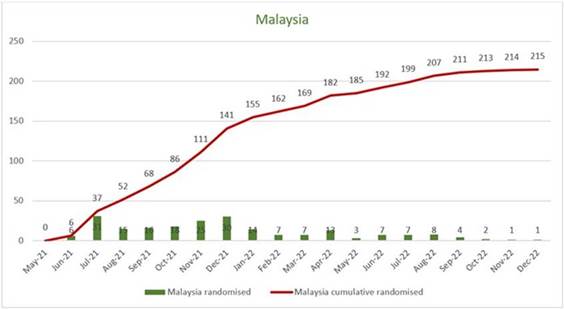 <![endif]>
<![if !vml]>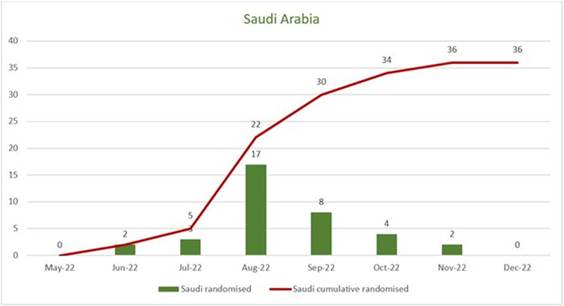 <![endif]>
<![if !vml]>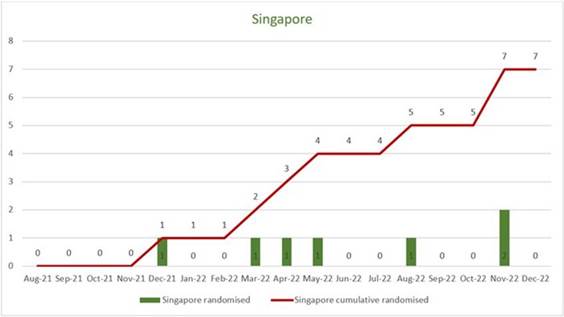 <![endif]>
<![if !vml]>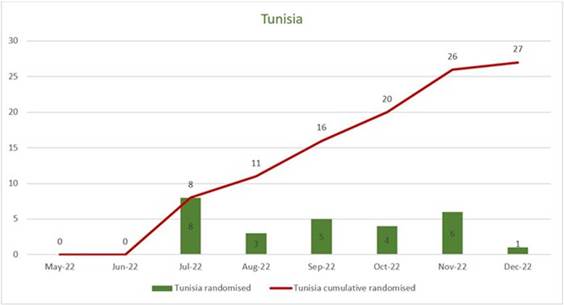 <![endif]>
<![if !vml]>

<![endif]>
Recruitment and Country Updates
To remain up to date on site status, visit https://www.tracktrial.org/participating-sites/
Below figures are as of 19 Dec 2022. Only sites with participants on run-in or randomised have been included.
<![if !vml]>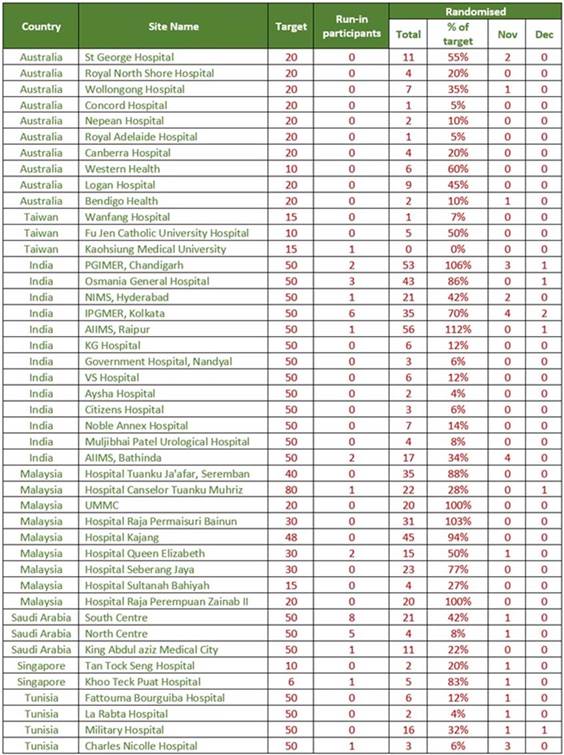 <![endif]>
<![if !vml]>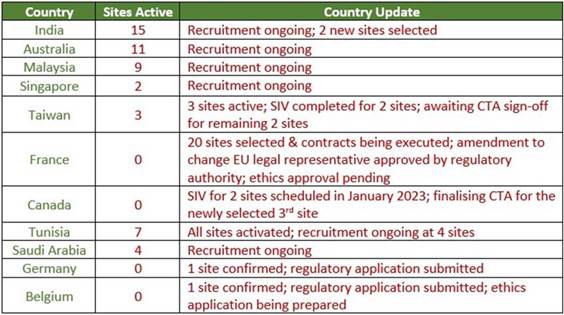 <![endif]>
<![if !vml]>

<![endif]>
1. Reporting of gastrointestinal bleeds
The only minor bleeding events that require reporting are the ones that fall under the categories in TRACK Protocol Appendix 1:
Minor bleeds that do not fall under these categories, such as minor lower gastrointestinal bleeding, do not require reporting. There is a focus on the reporting of upper gastrointestinal bleeding due to concerns regarding antithrombotic medications causing gastric erosions/ulcers.
Any other minor bleeds do not need to be reported except for the GI bleeds in Protocol Appendix 1.
2. Undetermined cause of death
Some cardiovascular deaths have been reported as 'Undetermined Cause of Death' within the TRACK database.
The following death scenario qualifies as a cardiovascular (CV) death and not 'undetermined cause of death':
Unwitnessed death in a subject seen alive and clinically stable ≤24 h before being found dead without any evidence supporting a specific non-cardiovascular cause of death.
Information about the patient's clinical status preceding death should be provided if available in the 'Briefly describe the event' field in the eCRF. For more information, please refer to outcome definitions in TRACK Protocol Appendix 1.
3. Remote participant visits
If a participant for any reason cannot attend a clinic visit in-person, the visit can be conducted remotely by phone/teleconference and study medication can be dispensed through IBM and shipped to the participant by post.
With the latest update to Protocol version 4.0, remote consent, screening, and randomisation visits are also possible. If your region/site would like to undertake e-consent, please inform the TRACK Global Project Team at least 2 months in advance to allow for set up time.
<![if !vml]>

<![endif]>
1. Holiday period and emergency unblinding
During the upcoming holiday period, database management staff will be offline from Saturday 24th December 2022 to Tuesday 3rd January 2023.
If for any reason your site needs to perform emergency unblinding for a participant and the usual emergency unblinding method does not work, please contact the emergency unblinding team at the Lyon Poisons Centre Hotline (toll-free) on +334 72 11 69 11.
2. DSMB meeting & recommendations
The recent DSMB meeting was held on 8th December 2022. The recommendation from the DSMB was 'to continue the trial unchanged' and also encouragement for 'investigators to redouble efforts to maintain participants on study drug who do not have a protocol-directed reason for discontinuation. The categories of "Participant Request" and "Other" should be minimized in order to optimize group separation and statistical power. The Investigators could re-approach these participants in the coming weeks and months in an effort to re-start study drug.'
We therefore encourage sites to explain to participants the importance of staying on the study medication as this may reduce risk of cardiovascular events and will help to ensure we can obtain meaningful results from the trial.
<![if !vml]>

<![endif]>
For any site staff who wish to train/practice data entry for the study, please visit the TRACK Training IBM Database by logging in with any of the following updated training accounts.
<![if !vml]>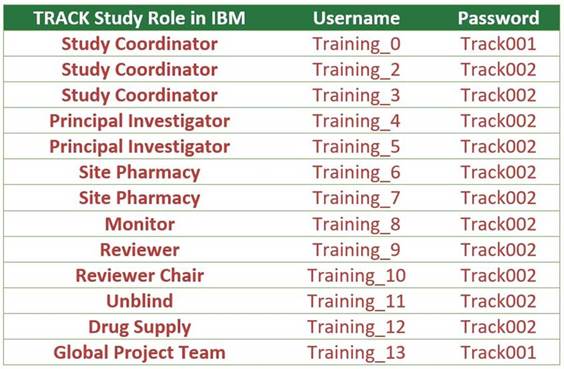 <![endif]>
<![if !vml]>

<![endif]>
Feature Profile
As some of you may know, our TRACK Global Project Manager, Enmoore Lin, will be leaving the study in the new year. From everyone in the TRACK Global Project Team, we thank Enmoore for her unparalleled hard work and dedication to the TRACK trial and wish her all the very best.
Below is a photo of Enmoore in her comfort zone as well as a message from Enmoore herself.
<![if !vml]>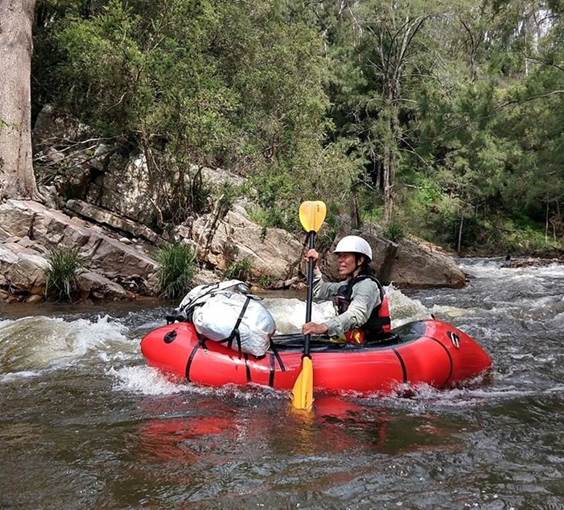 <![endif]>
Name: Enmoore Lin
Location: Sydney, Australia
Role: TRACK Global Project Manager
Comment: I have had the privilege of working on the TRACK trial from March 2020 and have been the Global Project Manager since October 2020. It has been incredibly satisfying to see the hard work pay off and see the trial progress from start-up to recruitment in most of our countries. There have been challenges, particularly with COVID-19 disruptions, insurmountable obstacles for China and EU regulatory changes, but we have managed to get on top of these and I learnt a lot in the process. Hopefully our recruitment difficulties will also fall by the wayside. It has been a pleasure to work with everyone in the TRACK family around the world. Thank you for your efforts, support and dedication – it has truly been a team effort!
I will be handing over the TRACK Global Project Manager role to Jenny Landrigan on 9 January 2023. I will continue to work on other clinical trials at The George Institute and have been invited to join the TRACK Global Steering Committee. I look forward to seeing the TRACK trial complete recruitment.
<![if !vml]>
<![endif]>