<![if !vml]>
<![endif]>
Study Overview
The TRACK trial will evaluate whether a small dose of rivaroxaban, a blood-thinning medication, would reduce cardiovascular death or major cardiovascular events in patients with advanced stages of chronic kidney disease.
1. Expectedness for SAEs and Outcomes
When completing the SAE form in the database, please note that most events will be 'expected' according to the protocol or condition under study.
If you are unsure of your response, please check with the Global Project Team.
2. Asking participants about their SAEs
During participant phone calls and visits, please enquire about any and all adverse events that may have occurred since their last call/visit. If the participant confirms that an SAE occurred but it was not treated at your hospital, please enter the event into the TRACK database like you would normally.
<![if !vml]>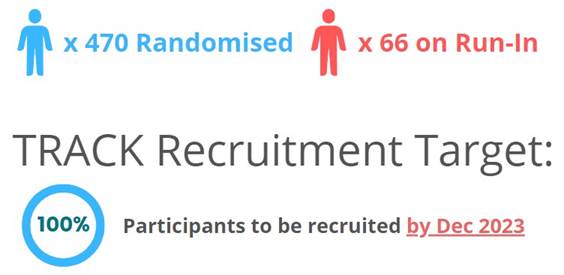 <![endif]>
Recruitment Graphs: Actual vs Target
The below graphs depict the target rate of randomisation versus the actual rate of randomisation for the TRACK trial overall and for each individual country. Please note that only countries with participants randomised have been included.
Below figures are as of 22 Aug 2022.
<![if !vml]>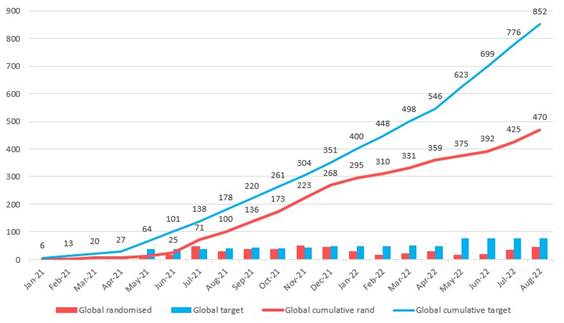 <![endif]>
<![if !vml]>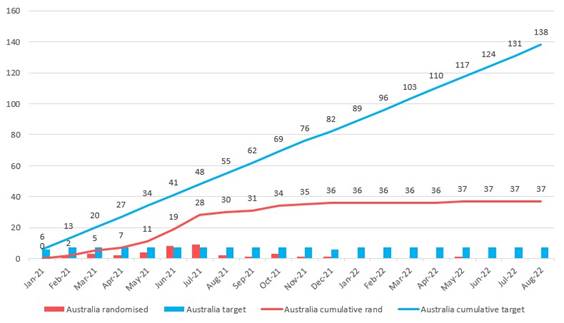 <![endif]>
<![if !vml]>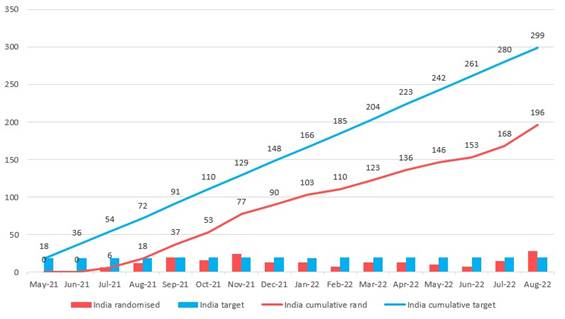 <![endif]>
<![if !vml]>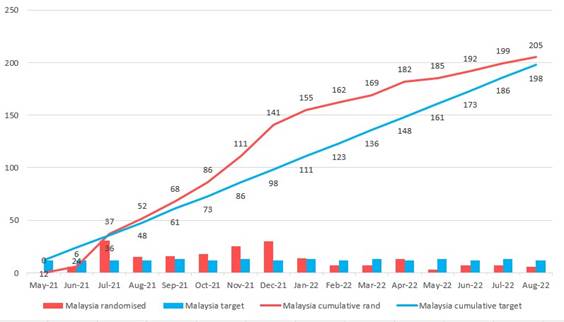 <![endif]>
<![if !vml]>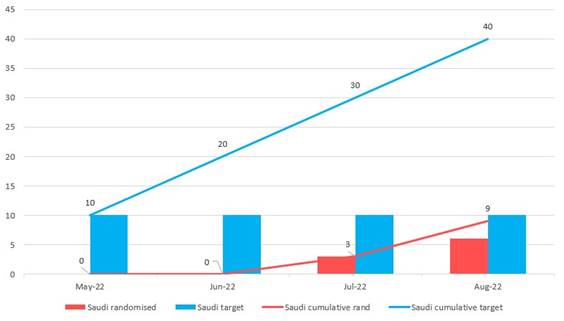 <![endif]>
<![if !vml]>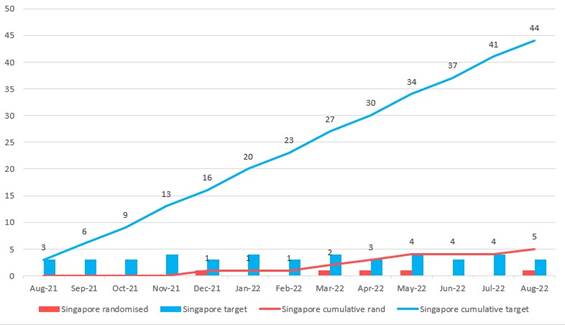 <![endif]>
<![if !vml]>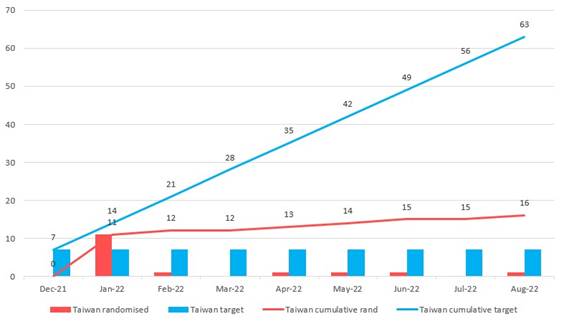 <![endif]>
<![if !vml]>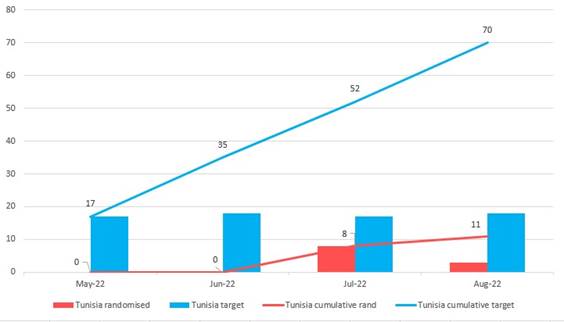 <![endif]>
Recruitment and Country Updates

To remain up to date on site status, visit https://www.tracktrial.org/participating-sites/
Below figures are as of 22 Aug 2022. Only sites with participants on run-in or randomised have been included.
<![if !vml]>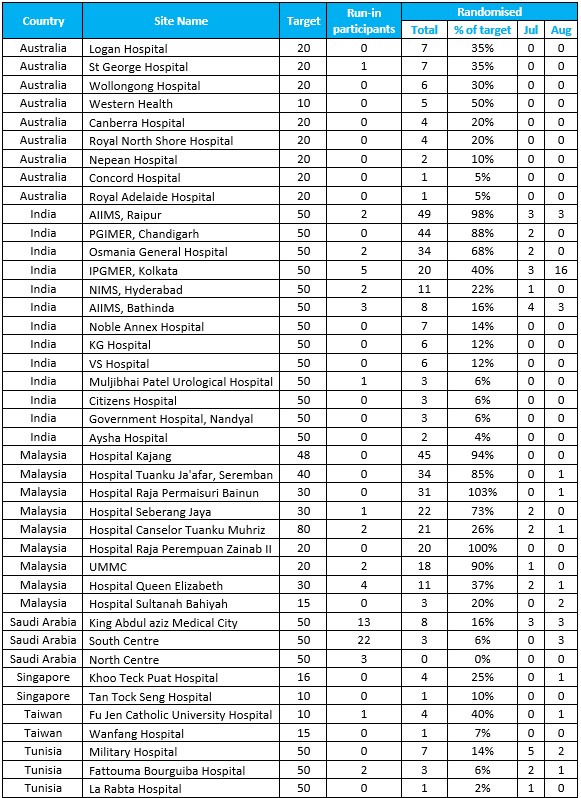 <![endif]>
<![if !vml]>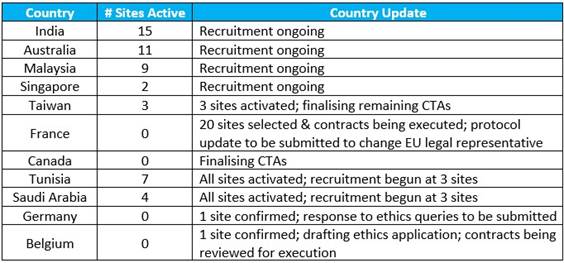 <![endif]>
Study Updates & Reminders to Sites
1. Phosphodiesterase Inhibitors
Please note that the protocol lists current treatment using phosphodiesterase inhibitors (dipyridamole) in the exclusion criteria. This has been misinterpreted as any and all phosphodiesterase inhibitors being prohibited with dipyridamole being an example, however, we wish to clarify that the only phosphodiesterase inhibitor not allowed is dipyridamole. This is updated in the FAQs page of the TRACK website and will be clarified in the next protocol update.
2. Participants who have discontinued study drug
Participants who have stopped taking study medication should still remain in the trial as part of follow-up and all SAEs/outcomes must continue to be reported. Reporting timelines for 'Stopped IMP' participants are the same as that of other participants.
3. Outcome & Serious Adverse Events (SAE) that result in death
If a participant has had an Outcome event and passes away as a result, 2 outcome forms should be completed - one for the initial outcome and one for the death. Similarly, if the participant has had an SAE and passes away, both the SAE form and the Outcome form (for the death) should be completed.

Example 1: A participant has a stroke and dies 2 weeks later. The stroke should be entered in the Outcome form and the subsequent death on a separate Outcome form.

Example 2: A participant is hospitalised for COVID and the event status on the SAE form is 'Ongoing'. If the participants later dies, the event status on SAE form should be changed to 'Fatal' & an Outcome form for the death should be completed.

For any site staff who wish to train/practice data entry for the study, please visit the TRACK Training IBM Database by logging in with any of the following updated training accounts.
<![if !vml]>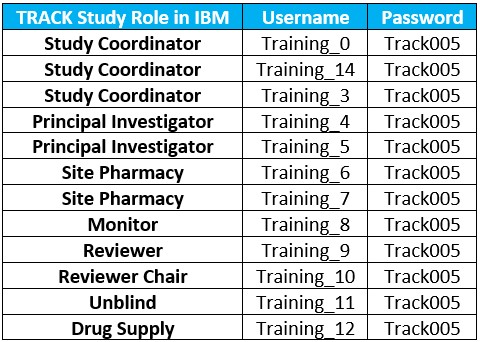 <![endif]>
<![if !vml]>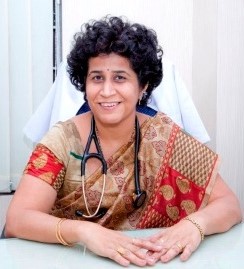 <![endif]>
Name: Dr. Manisha Sahay
Position/Role: Professor and Head of Nephrology Department
Location: Osmania General Hospital, Hyderabad, India
About: Dr. Sahay's passion for teaching prompted her to opt for the teaching line in the medical profession. As a medical educator, she derives great satisfaction from imparting training to post-graduate students in the institute.
Research forms an important part of her area of interest and she can be attributed with numerous publications and awards presented to her for her prolific work in her field of specialty. Her professional areas of interest include diabetic kidney diseases and transplantation.
In TRACK, Dr. Sahay is supported by Dr. Rakesh Sahay, Mr. Prasad, and Ms. K. Mounika.
<![if !vml]>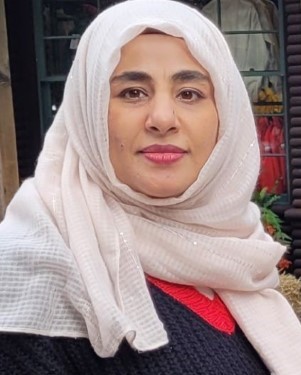 <![endif]>
Name: Khizra Sultana
Position/Role: Senior Clinical Research Coordinator
Location: Riyadh, Saudi Arabia
About: I completed my Post graduate diploma in Clinical Pharmacy from University of Queensland, Australia in 2007. I joined KAIMRC in 2011 & went on to complete my Masters in Clinical Pharmacy from University of Tasmania, Australia in 2015. I have coordinated many national & international multicenter clinical trials. I have been a co-investigator for a number of projects initiated by the pharmaceutical department at King Abdulaziz medical city. We successfully completed & published projects on topics like anticoagulants, tele-pharmacy, COVID-19, validation and psychometric properties of instruments, prediction models etc. in well reputed scientific journals. I am passionate about research & love to give back to the research community. Presently, I am a regular peer reviewer for the journal "Frontiers".