<![if !vml]>

<![endif]>
Study Overview
The TRACK trial will evaluate whether a small dose of rivaroxaban, a blood-thinning medication, would reduce cardiovascular death or major cardiovascular events in patients with advanced stages of chronic kidney disease.
<![if !vml]>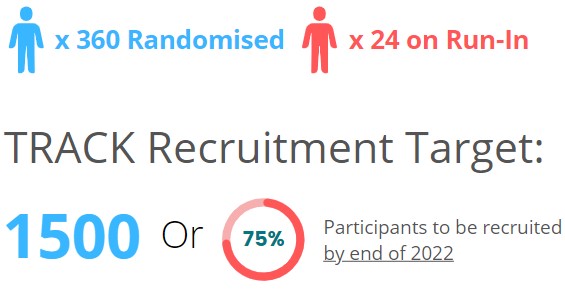 <![endif]>
Recruitment and Country Updates
To remain up to date on site status, visit https://www.tracktrial.org/participating-sites/
Below figures are as of 03 May 2022. Only sites with participants on run-in or randomised have been included.
<![if !vml]>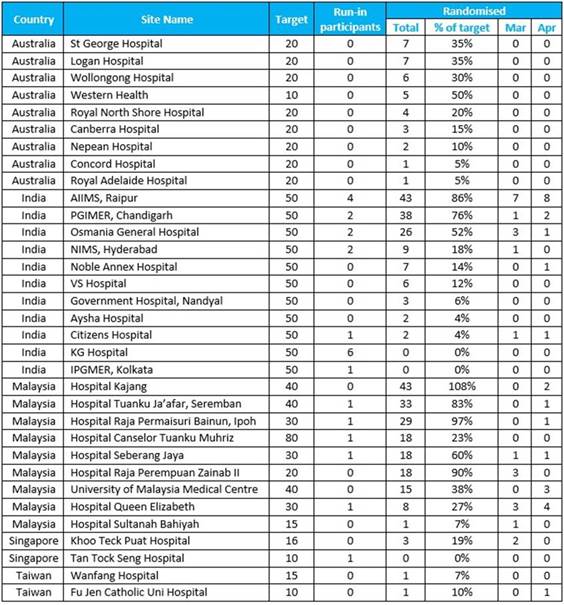 <![endif]>
<![if !vml]>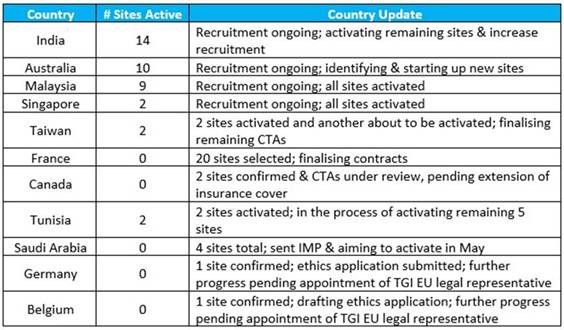 <![endif]>
Recruitment Graphs: Actual vs Target
The below graphs depict the target rate of randomisation versus the actual rate of randomisation for the TRACK trial overall and for each individual country.
Please note that only countries with participants randomised have been included.
<![if !vml]>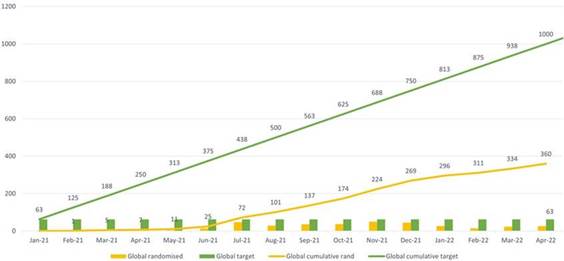 <![endif]>
<![if !vml]>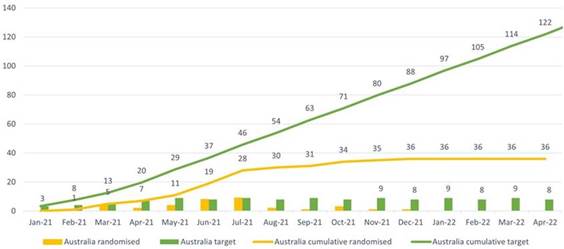 <![endif]>
<![if !vml]>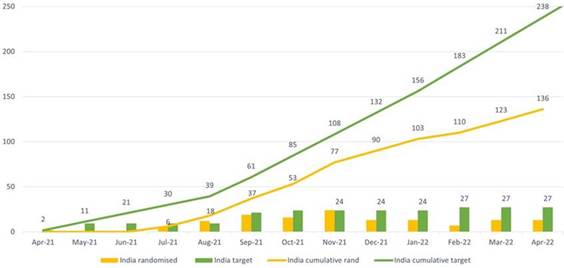 <![endif]>
<![if !vml]>
<![endif]>
<![if !vml]>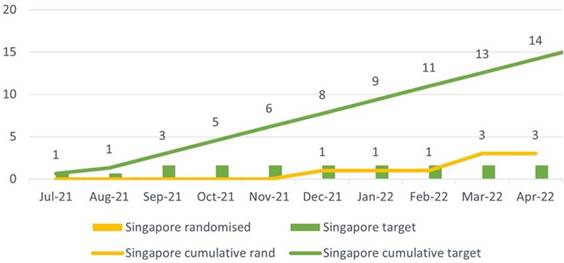 <![endif]>
<![if !vml]>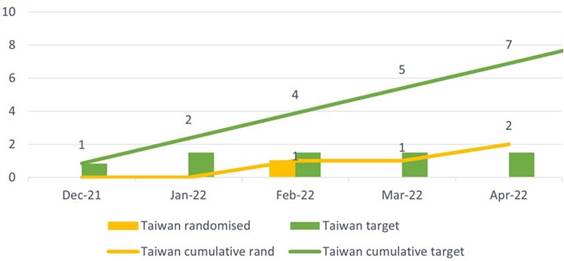 <![endif]>
Study Updates & Reminders to Sites
1. Hitting Site Recruitment Target

Malaysia
Some of our Malaysian sites have either exceeded their recruitment target or are about to reach their target very soon, which is an impressive achievement. We greatly appreciate the contribution and encourage all Malaysian sites to continue recruiting at a healthy rate to help make up for the slower recruitment of other countries.

All other countries
We continue to encourage all sites to increase recruitment rates and any and all efforts to reach the trial recruitment target are greatly appreciated.

The current monthly global rate of recruitment of ≈25 participants needs to increase to ≈100 participants.

To further encourage recruitment, for sites who reach their recruitment target and are willing to recruit beyond their target, we are open to discussing increases in site patient payments as an added incentive.
2. Participant Information and SAEs

Please do not share any participant information (for example name, date of birth etc.) nor the participant's SAE details to any third parties (except regulatory authorities).

Any queries or issues regarding SAEs should be communicated directly with the TRACK Project Team at TGI ([email protected]).
3. Medication Changes

Please remind participants to inform you or other TRACK site staff if they have started taking any medications that they were not taking at the start of the study.

If a participant indicates that they recently began taking a prohibited medication, the study medication must be stopped until the participant ceases taking the prohibited medication and the Study Medication Log must be updated.
4. Patient Alert Card

ID Number
Please ensure that the TRACK Patient Alert Card has the participant's study ID number written on it. In the rare occurrence whereby a participant needs to be unblinded, being able to easily locate the participant's study ID will make the emergency unblinding process easier for the site Investigator or other unblinding staff involved.

Participant Use
Please encourage participants to keep their Patient Alert Card on them as much as possible. It has been reported that when visiting the hospital, some participants are not able to recollect details of the trial such as where the trial is being conducted and who is conducting it.

For any site staff who wish to train/practice data entry for the study, please visit the TRACK Training IBM Database by logging in with any of the following updated training accounts.
<![if !vml]>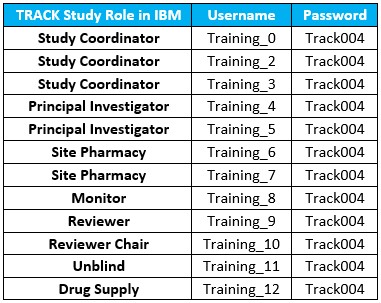 <![endif]>
<![if !vml]>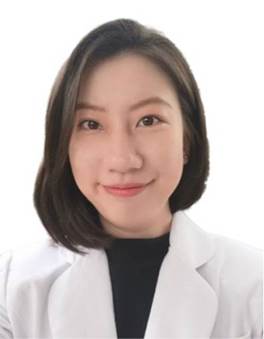 <![endif]>
Name: Stephanie Ren
Position/Role: Clinical Research Associate level I
Location: Singapore
About: Prior to joining George Clinical (GC), I was a Clinical Research Coordinator in a public hospital for 2.5 years. I had worked with both commercial and investigator-initiated trials in the therapeutic areas of Nephrology, Endocrinology, and Hepatology. I previously had great experiences working alongside GC and decided to join them.

<![if !vml]>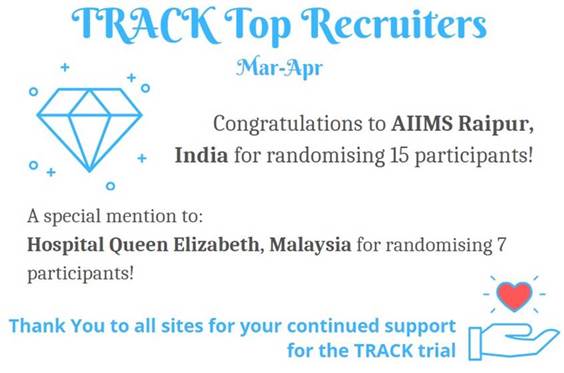 <![endif]>
<![if !vml]>

<![endif]>